360 Video Editor: How to Edit 360 Video
What is a 360 video editor?
Once you've shot your VR video using a 360-degree camera, you'll need to edit it. Editing is the process of taking all the raw individual video clips and combining them to make a single continuous video. While the fundamentals of editing 360 videos are the same as editing a normal video - a linear story made up of single shots cut together, you'll need some specialist video editing software to work with 360 videos.
Need to Download VideoStudio?
Download a free 30 day trial now!
A 360 video editor is non-linear editing software that can edit 360 videos. Professional editing software like Pinnacle Studio and VideoStudio include the ability to edit 360 videos as part of the package, and there are other 360 video editors available that specialize in VR videos.
The 360 video editor you choose will be based on your budget and how familiar you are with editing videos already. If you want to edit videos other than just 360 videos then using VideoStudio or Pinnacle Studio will give you more flexibility for other projects.
How to edit 360 video
To begin editing a 360 video, you first need to import the 360 footage into your chosen software and make sure it's set to 360 mode. Most software will detect this automatically but in VideoStudio, for example, you can right-click, select 360 video, and then Insert as 360.
If you have multiple clips you can add them to the timeline in the order you want them to play in. If you're telling a story, consider adding a voiceover as an audio track to tie the footage together. Trim the clips to your chosen length to remove anything in the clip you don't want in the final video - maybe somebody walking into shot towards the end of the part where you hit record on the camera.
Remember that a viewer will be watching your video through a VR headset, so just cutting straight to another clip might be too jarring and confusing. Try adding transitions between the shots like dissolves and fades to make this a more comfortable experience.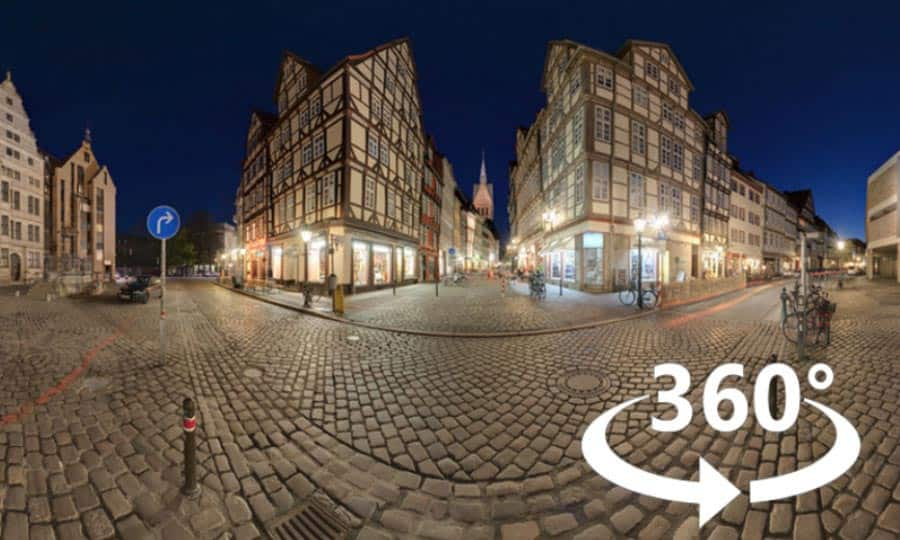 Once you've laid out the structure of your video you can add effects to help bring it to life. Open up the effects panel and browse through any effects that might help add some atmosphere. This could be weather effects, or changing the color of the footage, or slowing down and speeding up different parts of the clip. Have a play around and add whatever helps to tell your story.
Finally, add text to the video. This might be a chapter marker, opening titles, credits, or any supporting text to inform the audience of something if you don't want to include a voiceover. Remember that in a 360 video the audience might be looking the other way so make you sure you position and time the text in a way that makes it clear for the person viewing.
Once you've edited your 360 video you're free to export it as a final video file and upload it to your chosen platform like Facebook or YouTube.
Need to Download VideoStudio?
Download a free 30 day trial now!