Creating Stop Motion Animation Videos
What is stop motion animation?
Stop motion animation is an animation technique created by connecting a sequence of individually photographed frames. Objects are moved in small increments across the many frames, creating the illusion that they are moving independently when the frames are strung together. The materials used to shoot a stop motion animations can further distinguish the style of the video. Stop motion animations can be any length. As they can be very labour intensive to create, beginners to stop motion animation may want to start with shorter films before considering expanding the scale of their stop motion animation project to a full length film. At first glance, stop motion animations can look overwhelming to produce, but with the right tools and stop motion software the results can be award-winning!
Stop motion animation is a truly unique style of video production. You may recognize more examples of popular stop motion animation TV shows and movies than you thought! There are several sub-styles of stop motion animation that usually differ based on the material used to create the characters.
The two most popular sub-styles of stop motion animation are claymation and cutout animation. Claymation stop motion animation videos are made using clay figures. Depending on the scale of the project, one or hundreds of copies of the characters may be produced. Examples of popular claymation projects include the award winning films Coraline, Kubo and the Two Strings, Tim Burton's The Nightmare Before Christmas, and the Wallace and Gromit films.
Cutout animation style stop motion animation is created using 2D shape cutouts, usually made from paper. This style is most recognizable as being used in the TV series South Park, who used to use hand-made paper cutouts before moving to computer-assisted animation, or its use in segments of Monty Python films.
Explore new creative possibilities with VideoStudio!
Begin your free 30 day trial now.
What do I need to create stop motion animation videos?
You can create a variety of video styles using stop motion animation. The materials that will be required to create your video will vary depending on your vision for your project.
A storyboard of your stop motion animation

A storyboard is a way to organize and plan out your stop motion animation with a timeline of images representing the scenes you want to produce. How extensively you want to storyboard your animation is up to you, but it is recommended to storyboard your animation in moderate detail so that you have a complete graphic visualization of your project to refer to before beginning to shoot frames. You may want to shoot some sample frames or basic placeholder footage while you plan out your full project.

You can create a storyboard for your stop motion animation on paper, or right inside VideoStudio! VideoStudio has an intuitive storyboard editing mode that makes it easy to plan out your projects. Simply shoot and import a few sample frames or video clips and drag them to the timeline to begin storyboarding your video.

A basic stop motion animation set

Regardless of if you're creating a narrative, a cooking video, or telling another kind of story with your stop motion animation, you will need to set up the area where you'll be shooting your frames. This may include scenery like grass, hills, miniature buildings, or simply a countertop. When choosing where to shoot your stop motion animation, you should think about how easily you'll be able to move the characters in the space, and how consistently the area will be lit. You may want to avoid shooting the frames for your stop motion animation in a room with lots of direct sunlight, as a cloudy day is likely to completely change the temperature of the light.

Though it's possible to adjust the white balance in your frames and transform the color in your images to match with the remainder of your project using the color grading controls in VideoStudio, you can set yourself up for success by choosing an easily controlled area to shoot in from the beginning.

You can add detail and interest to your stop motion animation set by using a printed image or fabric as a background, adding details like trees and plants, or by spending time creating a complete unique set for your video!

Characters and props for your stop motion animation

If you're telling a story featuring characters, you need to create or prepare those characters for use. LEGO characters, action figures, paper cutouts and plasticine models are all common choices for stop motion animations. When choosing how you'll depict the characters in your stop motion animation, you may want to consider things like the range of motion you expect from the characters, how easy the limbs are to move, and how long it will take you to shoot your animation. Some materials will be easier to manipulate between frames than others!

If you're creating a video featuring other objects such as food items, plants, toys, or drawings, you'll also want to ensure that you have those prepared to avoid adding unnecessary delays to your stop motion animation shoot.

Lighting for your stop motion animation

As mentioned above, you can set your stop motion animation up for success by choosing a location where you're able to consistently control the lighting. In addition to choosing the right location, you can improve the quality of your stop motion animation by adding a light fixture above your stop motion animation set. Almost any light or desk lamp will work well for this, it just depends on what your project requires.

A camera for shooting your stop motion animation

VideoStudio allows you to choose to shoot your stop motion animation using your computer's webcam, or connect your own camera to use. What camera you use to capture the frames of your stop motion animation is entirely up to you, but a separate camera will give you the best balance of image quality and control.

Video editing software to edit your stop motion animation

Once you have captured all of your frames, you'll likely want to edit your completed stop motion animation. You may want to add titles and credits, record voiceover dialogue for your characters, or even add background music to heighten the excitement in your scenes. VideoStudio is a fun and easy video editing software to consider, as it offers a built in tool to help you capture the perfect frames for your stop motion animation! VideoStudio also offers an easy to use interface and is packed with surprising features you can drag and drop to your stop motion animation to take it to new creative heights!
Explore new creative possibilities with VideoStudio!
Begin your free 30 day trial now.
How to create a stop motion animation video
Prepare your storyboard, materials, characters and props

To ensure your stop motion animation shoot goes as smoothly as possible, ensure that you are as prepared as possible. Creating a storyboard to plan out the scenes you need and the actions of all the characters will ensure that you don't miss anything. Make sure that you have created or collected the other materials you'll need. This may include scenery, backdrops, characters, props, and lighting.

Assemble your stop motion animation set

Prepare the set of your stop motion animation with a backdrop, decor, and proper lighting. It's recommended to add a light source such as a desk lamp to ensure your characters are well lit and to keep the level and temperature of the lighting consistent over the course of your shoot.

At this time, you should also set up your camera with a tripod or any other accessories you will be using. If your computer has a webcam, you can also choose to use that to capture your animation frames, though a separate camera is recommended for ease of use and image quality.

Set up VideoStudio

Open VideoStudio, and click the 'Capture' tab. Then, click 'Stop Motion' to load the stop motion animation tool. When the tool loads, you'll see that you have options to create a new project, open an existing project, or import images that have already been captured. You can also choose your desired camera from the dropdown menu at the top, and adjust the settings for the stop motion capture and, if connected, your DSLR camera.
Get started with VideoStudio today!
Begin your free 30 day trial now.
Capture your frames

Capturing a frame is one click simple! Just click on the 'Capture image' red circle button to take a picture. You can then manipulate the characters in your scene, and click to take the next picture. VideoStudio offers an Auto Capture function that you can use to tell the program to take photos at an interval of your choice, which you can set by opening the options to the right after enabling Auto Capture.

There are several tools in the VideoStudio stop motion animation creator that will help you to achieve fluid movement from your characters. The Onion Skin tool will superimpose a translucent copy of the image you just took over the live feed from your camera, so you can easily determine how significant the changes you're making to your characters are while positioning them. You can control the level of transparency of the last image over your camera feed with the slider.

There are also three variations of grids you can use to determine how many frames you should take to move objects across the screen, based on the amount of time you want that motion to take. Adjusting the 'Time Across' field below up or down will change the look of the grid.

Save your frames

When you want to take a break or you're done capturing your frames, click 'Save' and your stop motion animation will be generated and added to the Samples folder in the media library. You can then click 'Exit' to begin editing your project on the timeline, or continue shooting. You will need to save again before exiting if you continue capturing frames after you've hit 'Save'. It is recommended to save often throughout your shoot to minimize the risk of losing any images. Breaking up your capture into multiple sessions will also help to minimize that risk. You can easily combine your clips on the timeline, so don't worry about capturing your entire project at once!

Edit your project on the timeline

Locate your stop motion animation video(s) in the Samples folder and drag them to the timeline to begin editing your project further! Add titles, music, and special effects to elevate your stop motion project to a new level.
For a more in depth look at how you can create a stop motion animation using VideoStudio, check out this full tutorial video.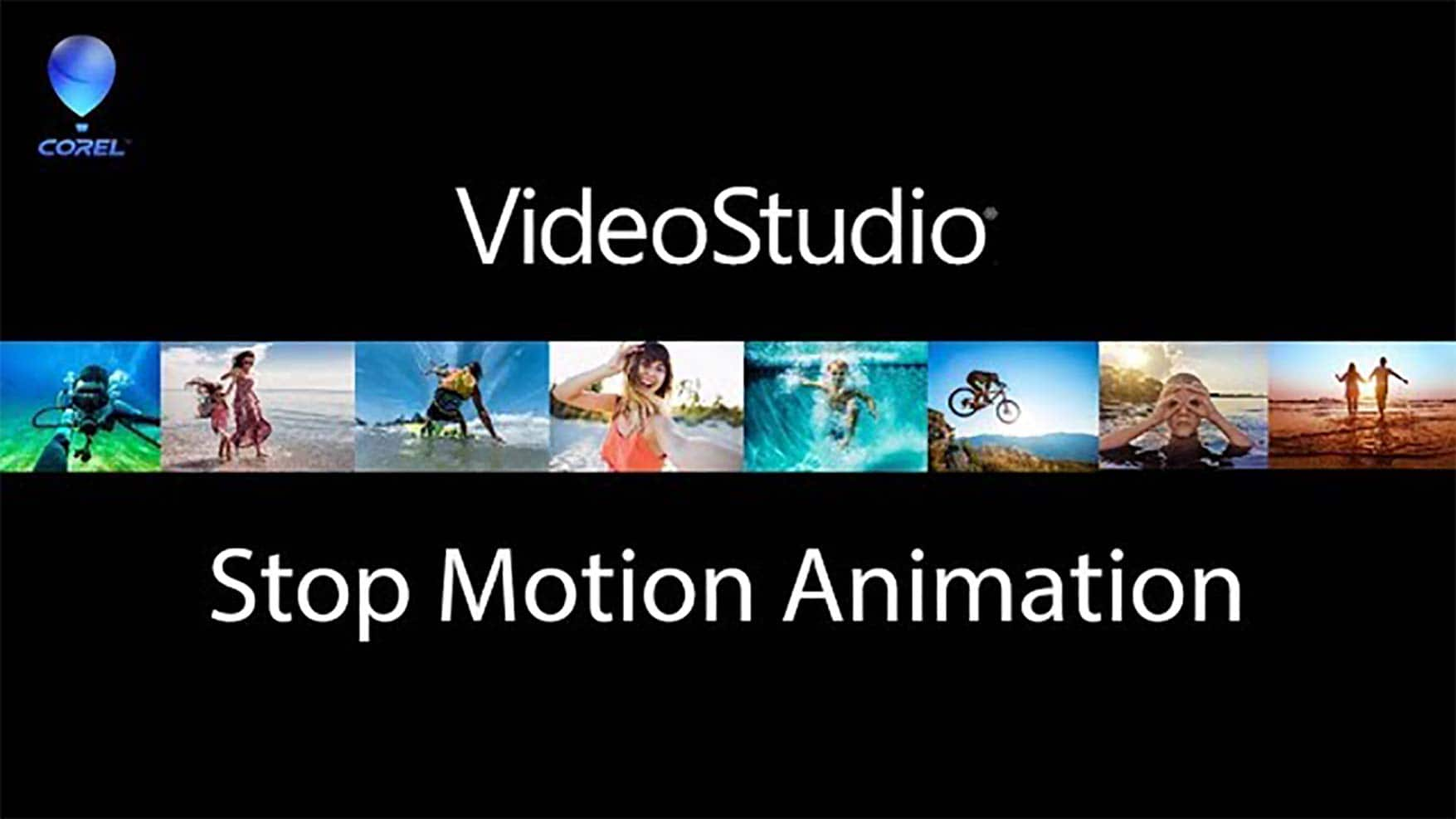 Why choose VideoStudio?
VideoStudio is an award winning video editing software that offers a fun, easy video editing experience. VideoStudio's intuitive interface is packed with creative features that will help you capture your stop motion animation easily and efficiently!
Start out in storyboard editing mode to plan out your project, and then get started with your stop motion animation using the in-product capture tool! Use your computer's built in camera or plug in your own to shoot and create your animation simultaneously. Take advantage of intuitive frame guides that show you exactly how many frames you need to capture the motion of your characters smoothly. Use the ghost mode to keep your last frame overlayed at an adjustable level of transparency for easy referencing during your shoot. Color correct your frames to adjust for changes in lighting, and take your stop motion animation to a new creative level with effects, titles, and music!
Choose VideoStudio for your next stop motion animation project and watch your characters come to life before your eyes!