The Complete Guide to Editing Instagram Videos
Instagram Videos
Instagram is a platform meant to connect users to the people and brands that inspire and entertain them. Instagram has grown to be one of the most popular social media platforms worldwide, with over 1 billion users. Instagram is a great way for personal accounts to share content with friends, for influencers to gather a following that shares their passion for travel or lifestyle content, and for businesses to build brand identity and engagement with customers and potential customers alike.
Originally a primarily photo-based platform, Instagrams relationship with video has evolved since they introduced support for video sharing in 2013. Users can now create and share Instagram video posts, Instagram video stories, host live Instagram videos, and even post longer video content to their new video application, IGTV.
Instagram videos are a great way to provide additional details and context to your post. Instagram video posts are also more likely to drive engagement in comments than photos! Making the most of Instagram as a platform, whether you're an everyday user, an influencer, or a business, comes down to playing to the strengths of the app. You can do this by keeping your video dimensions to proper Instagram video sizes, ensuring your Instagram video posts are the proper file size, length, and quality, and editing your Instagram videos with third party editing softwares like VideoStudio that offer more fun editing features than the in-app editor provides. Optimizing your Instagram video for sharing will depend on how you want to post the video!
Explore new creative possibilities with VideoStudio!
Begin your free 30 day trial now.
Instagram Video Size
Instagram Dimensions: Feed Posts
Instagram allows you to post videos in the same way you post photos. As of the date this was posted, Instagram allows for square, horizontal, or vertical video posts. If your video does not fit one of the three aspect ratios listed here, then it will appear cropped in your news feed with bars along the sides or top and bottom to force the video to meet the Instagram size requirements.
Minimum Length: A few seconds
Maximum Length: 60 seconds
Maximum File Size: 4GB
Aspect Ratio: 1:1, 1.9:1, or 4:5
Instagram Dimensions: Video Stories
Instagram video stories are perfect for calling for action from your followers/viewers. Instagram video stories provide more context than photos, and are great for introducing a sale or promotion, sharing casual thoughts between feed posts, asking viewers to check out your latest feed post, and more. Content should be kept away from the top and bottom 20% of the screen so users can interact with your post easily. If your video exceeds the 15 second maximum, Instagram will automatically clip it into 15 second segments. To trim your videos into segments at custom points, you can edit them in a third party video editing software, such as VideoStudio.
Minimum Length: A few seconds
Maximum Length: 15 seconds
Maximum File Size: 4GB
Aspect Ratio: 9:16
Instagram Dimensions: Live Videos
Instagram Live videos are similar to video stories, but offer a unique and more personal way to engage with followers. Instagram Live videos must be shared from the application, and cannot be edited while broadcasting. Instagram Live videos are popular to promote sales, host Q&As, or tease new product releases. After the broadcast, you can choose to share your live video to your story, or save it to your camera roll.
Minimum Length: A few seconds
Maximum Length: 60 minutes
Maximum File Size: N/A
Aspect Ratio: 9:16 (1080 x 1920 pixels)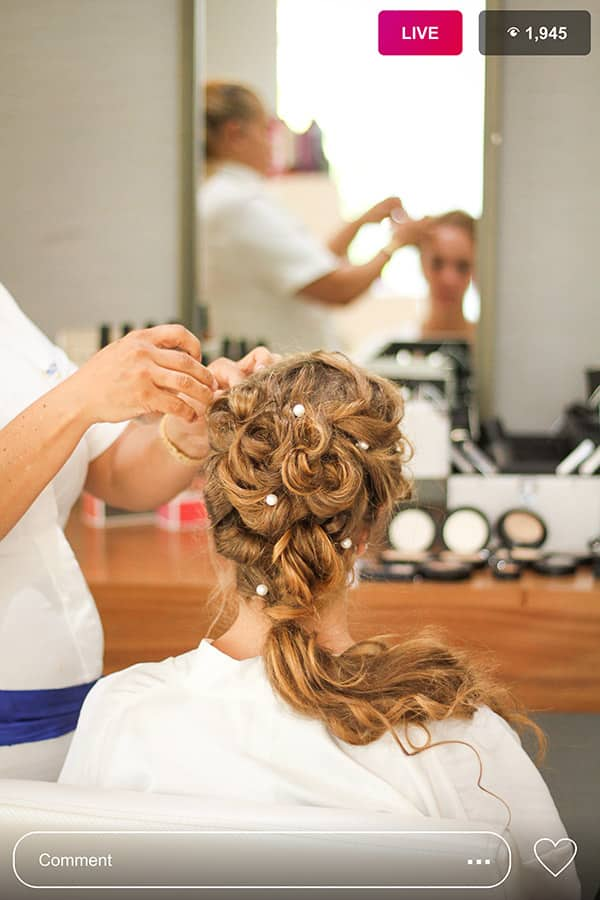 Instagram Dimensions: IGTV Videos
Videos shared through IGTV are unique as the platform they are viewed through is unique. IGTV is Instagrams home for video, allowing users to flip through channels and discover content more easily than through traditional instagram feeds. IGTV videos can also be posted to your Instagram feed to encourage your regular followers to engage with your content on the IGTV platform. Since IGTV videos can be much longer than typical Instagram feed videos or stories, IGTV videos have the potential to be more immersive and engaging. IGTV gives creators direct access to their established following on Instagram without asking them to leave the application, reducing potential barriers to engagement.
Required File Type: mp4
Minimum Length: 15 seconds
Maximum Length: 10 minutes for new/smaller accounts; 60 minutes for large/verified accounts
Maximum File Size: 650 MB for videos under 10 minutes; 3.6GB for videos up to 60 minutes
Video Aspect Ratio: 9:16 (1080 x 1920 pixels)
Cover Photo Size: Suggested Aspect Ratio 1:1.55 (420 x 654 pixels)
Editing Instagram Size Videos
Instagram offers some basic in-app video editing tools and features. If you capture your video in-app, you can use the Boomerang, Superzoom or Rewind camera functions to add looping motion or interest to your video. You can add text, draw on your video, add stickers, make basic color correction adjustments and trim the beginning and end of your video.
You can expand the creative possibilities of editing your instagram video beyond the in-app functionality by editing your videos in a third party video editing software such as VideoStudio.
VideoStudio is packed with intuitive video editing tools, color grading controls, visual effects, and title creation options that make it easy to take your Instagram videos to the next creative level! VideoStudio features easy aspect ratio options to Play with the speed of your video to highlight dramatic moments, add background music that automatically fits the length of your project, and create eye-catching titles. Combine multiple videos to make the most of your 15 second story using VideoStudio's dynamic split screen templates, and share your video easily online or to popular formats!
Explore new creative possibilities with VideoStudio!
Begin your free 30 day trial now.
How to edit videos for Instagram
Import your video

Add your video to the media library in VideoStudio. If you filmed the footage you want to upload on your phone, transfer the files to your computer by emailing them to yourself or uploading them to the cloud storage drive of your choice, such as OneDrive or Google Drive.

Set up your project

Depending on if you'll be sharing your video to your Instagram feed, your Instagram story or on IGTV, you'll need to set up your video to the proper Instagram size. You can do this easily by clicking on the project aspect ratio dropdown below the preview pane, and clicking on the aspect ratio you need. Presets for the square and horizontal feed videos as well as full screen story or IGTV videos are included in the list.

You can create a custom project profile in the project properties window by clicking 'Settings' and then 'Project Properties' along the top menu bar. For additional help changing the aspect ratio of your video, you can refer to this guide.

Make basic edits

Add your video to the timeline and cut, trim and crop segments until you're happy with it. Easily drag and drop transitions to the timeline for added visual interest. Stabilize shaky phone footage, take advantage of the Scorefitter music library and add music to your video, or control the speed of your video with time remapping to add drama to critical moments.
Get started with VideoStudio today!
Begin your free 30 day trial now.
Add titles (optional)

Simply double click in the preview pane with the text tool selected to begin creating a title over your project. You can also choose from the library of preset animated titles, or dive into the 3D title editor to add unique depth to the text in your video. Catch the attention of your followers and encourage them to like, comment, or swipe up and engage with your content! For help adding text to your video, check out this how-to guide.

Add effects (optional)

Go beyond the preset filters of Instagram and achieve the look you want with hundreds of drag-and-drop visual effects! Simply drag them to the desired clip on the timeline to instantly transform your video.

Explore all the creative adjustments and color corrections you can add to any clip in your video by double-clicking it in your timeline. Move through the tabs to adjust Lens correction settings, access color grading controls, and fine-tune your added effects.

Export and share

When you're happy with your project, click the 'Share' tab. You'll want to export your video as an mp4 for Instagram, so ensure MPEG-4 is selected. Select your desired aspect ratio from the Profile dropdown. The aspect ratios are generally mentioned in the options listed, but refer back to the recommended Instagram video dimensions listed above to confirm if needed. Name your file, and click start to begin exporting!

Once your file is exported, you can send it back to your phone for mobile uploading, or upload to IGTV from your desktop!
Why to Choose VideoStudio as Your Instagram Video Editing Software
VideoStudio is an award winning video editing software that offers a fun, easy video editing experience. VideoStudio's intuitive interface is packed with creative features that will help you take your Instagram videos to the next creative level!
Go beyond basic video adjustments with powerful color correction and adjustment tools. Stabilize shaky phone footage, remove lens distortion, and get the look of your instagram video exactly right with hundreds of drag-and-drop effects, animated titles, and transitions. Take advantage of included screen recording and video capture software to edit across multiple cameras with ease. With support for all the most common video formats, VideoStudio makes it easy to edit footage from cameras and mobile devices freely!
Step up your Instagram profile and make an impression by editing your Instagram videos in VideoStudio.