Enable Smart Render
How To Enable Smart Render
Rendering can take an enormous amount of time in video editing, especially when the video is long and includes a large number of effects. VideoStudio has implemented a smart render system to speed that process up and only render the parts of the film that need rendering. Read on to find out how it works.
Smart Render analyzes a video for any previously rendered sections and renders only the new or revised sections. This can reduce rendering time significantly.
Corel VideoStudio's SmartRender feature makes previewing and creating movies a lot faster. When you preview your video project for the first time, VideoStudio 'renders' the project by creating a temporary preview file on your hard drive which combines the video, image, and audio clips with the special effects which you applied to them. The SmartRender feature detects any changes in your project and if there are no changes, instantly plays back the preview file. If there are changes (for instance, when titles, video filters or transition effects have been added), it renders out only the edited portions, making render times much shorter and faster.
1.

Install VideoStudio

To install VideoStudio video editing software on your PC, download and run the installation file above. Continue following on-screen instructions to complete the setup process.
2.

Enable Smart render

Select enable spare render from the SHARE tab before pressing start.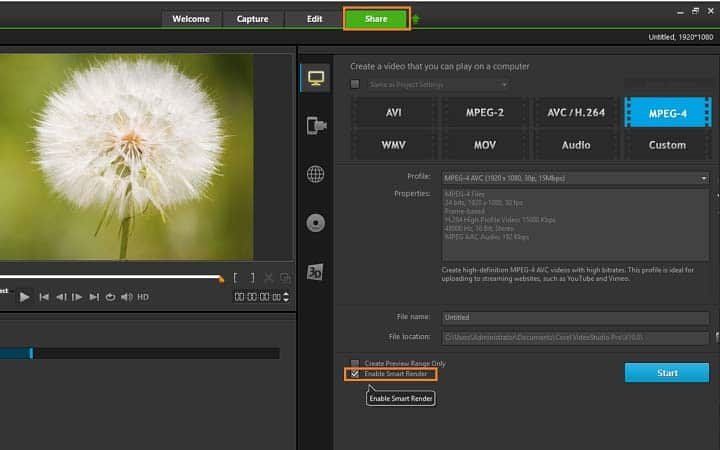 VideoStudio Smart Render isn't the only great feature
Check out some of the other video editing features in VideoStudio, like use Smart Proxy, make a cartoon, make slow motion video, and more! Create high quality videos in a fun and easy to use video editor and make your movies stand out more than ever.
Download VideoStudio and use Smart Render for quicker video rendering
Looking to enable Smart Remder? VideoStudios powerful SmartRender feature allows you to render only newly edited parts of your video, making the rendering process much faster. Click below to download your free 30-day trial and try Smart Render for free before you buy!