Make Animated Videos
How To Make Animated Videos
Animated films like cartoons let you create worlds you can only dream of, by stitch together frames of still illustrations. Animations are fresh and engaging ways to tell stories, and the process has been refined over the years from early hand-drawn Disney classics to huge budget PIxar films involving massive rendered 3D graphics.
1.

Install VideoStudio

To install VideoStudio video editing software on your PC, download and run the installation file above. Continue following on-screen instructions to complete the setup process.
2.

Open filters library

Turn your video footage into a cartoon in minutes, with filters. Open the Filters Library and find the filter we wish to use. You can preview through all filters, or use the dropdown to choose a filter category.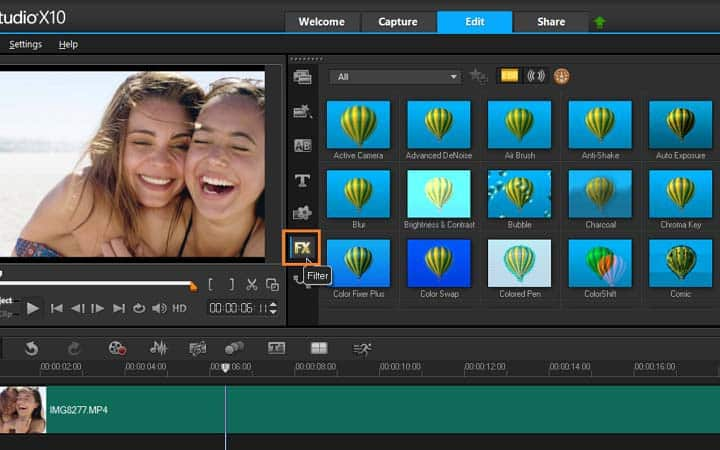 3.

Drag and drop effect to timeline

Once you find the video effect you wish you use, select it in the library, and drag it down on to your clip in the timeline. Give your video that 2D cartoon look, pencil drawing or painted look with a video filter. There are lots of filters you can choose from, but to narrow them down, select "Nature Painting" from the drop down and play around with the effect found here - Auto Sketch, Comic, Oil Paint, RotoSketch and more.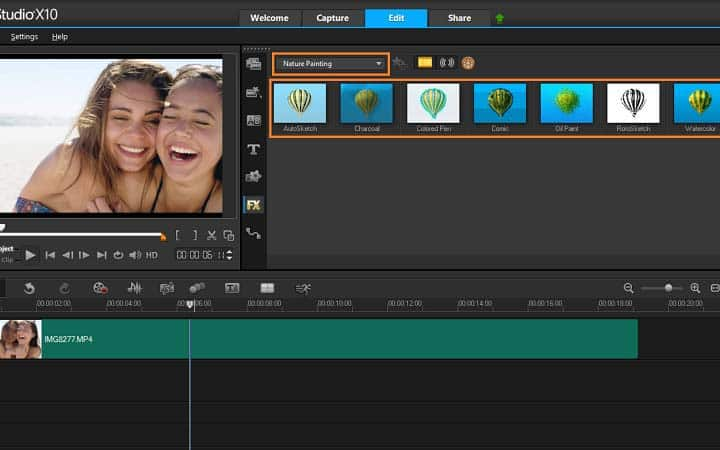 4.

Preview & edit effect

Once the filter is on the clip, select the play button to preview the effect. If you are happy with the results you can move on, if you want to remove or make fine tune adjustments to the video effect, open the options panel and select customize, or select the X to remove this effect from your clip. Available options to customize the effects depend on the selected filter.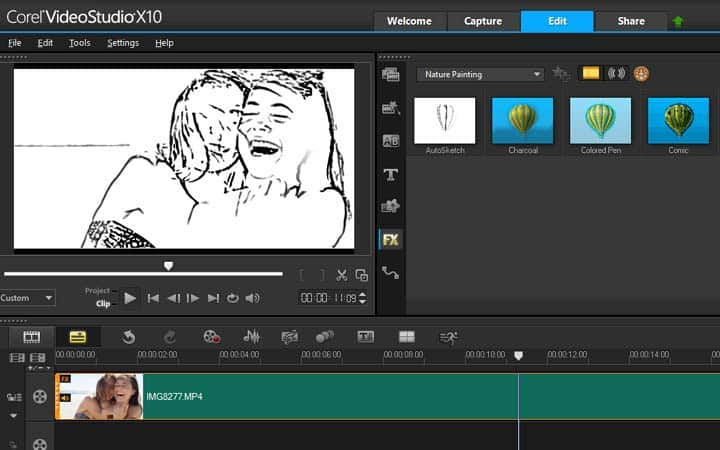 5.

Continue editing your video

Preview the final effect, and continue editing your project.
VideoStudio does more than just make cartoons
Check out some of the other video editing features in VideoStudio, like make a movie, make a film, make a music video, and more! Create high quality videos in a fun and easy to use video editor and make your movies stand out more than ever.
Download the best solution for making cartoon videos that there is
Looking to make a cartoon? VideoStudios powerful video editing features allow you to create cartoons from your videos. Click below to download your free 30-day trial and create your cartoon for free before you buy!