What are gaming videos?
Gaming videos span from step-by-step level tutorials, to full 'Let's Play' walkthroughs, to character summaries and even game reviews! Gaming videos have seen a huge popularity increase, with several of the top ten most followed YouTube channels being entirely focused on gaming.
Gaming videos are a great way to share highlights from your in-game experience, to express yourself creatively, to showcase projects in world building or creative based games, and to connect with the larger community of gamers! Viewers may turn into your gaming video to learn how to get better at playing a game, to preview the game before they purchase it for themselves, or because they simply enjoy watching the game be played! Gaming videos are a great way to insert your personality into a hobby.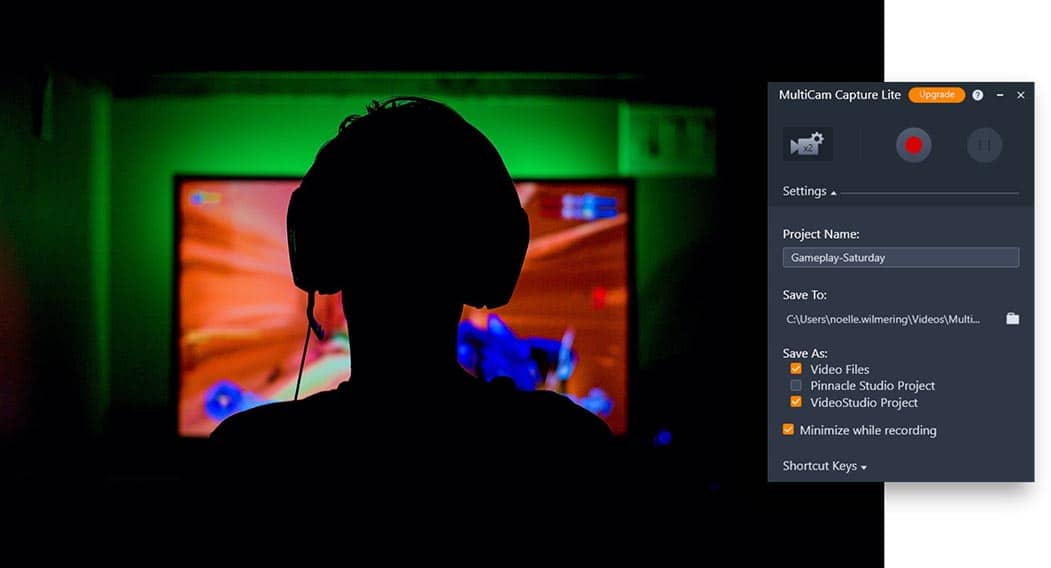 How do I make gaming videos?
1.

Plan your video

There are many possible types of gaming videos you can create. Search through other gaming videos for inspiration, or come up with a new idea of your own!  Plan out the shots that you need to capture, and write down key phrases or talking points you want to cover in your video. Planning ahead will ensure you can get all the footage you need in less time!
2.

Install VideoStudio

VideoStudio comes with intuitive tools to record your screen and webcam video simultaneously, plus hundreds of creative filters, effects, graphics and titles. To install VideoStudio, download and run the installation file here. Continue following on-screen instructions to complete the setup process.
3.

Record your gameplay and webcam video

Once VideoStudio has been installed, open MultiCam Capture Lite. MultiCam Capture Lite allows you to define the area of the screen you want to record. The full screen is selected by default, or you can customize the area to record by selecting a window you have open or by manually highlighting the area you want to record, and adjusting the size by pulling on the edges of the frame.

You can record 2 video streams at once to show your real time reactions to what is happening in your game, by capturing both your screen and webcam video simultaneously. You can also connect an external camera and microphone to boost the quality of your recorded video and audio.

Each video feed has adjustable settings for brightness, contrast and quality that can be adjusted before you begin to ensure the recording you capture is clean, crisp, and requires minimal editing after it's been captured! The settings menu allows you to choose your file name and location, choose if you want mouse clicks animations to show in your finished recording, and more. With your settings adjusted, you can click record.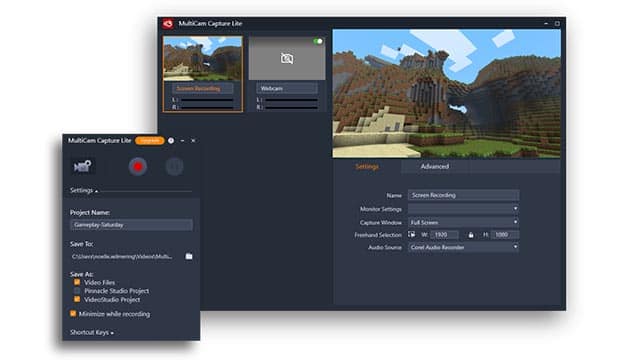 4.

Edit your gaming video

With your gameplay, voiceover and webcam video all recorded, you're ready to begin editing. How you put together your video is completely up to you! Many gaming video creators will create a custom animated overlay to use in the intro sequence for personality. Add titles to introduce yourself and your channel, to show the name of the game or the episode you're creating, or to point out important information to your viewers.

You may want to create a picture-in-picture effect to show yourself in the corner of the screen as you play the game, or add depth and interest to your recorded gameplay footage by panning and zooming across the shot to simulate real camera movement. Add audio effects, graphics, color grading LUTs, and get creative until your video fits your vision.
5.

Share your finished video

When you're happy with your edit, render and save it to your preferred video format to share with friends, family or followers online. Take advantage of a wide selection of supported formats and sizes and built in sharing options to upload your video directly online from right within VideoStudio!
Why choose VideoStudio to create gaming videos?
VideoStudio has all the tools you need to record your screen and webcam video simultaneously and create unique gaming videos. Download the free trial today and see how VideoStudio's award-winning combination of ease of use, creative effects, and drag and drop simplicity to make video editing even more fun! It's simple to make quick edits with smart tools and a streamlined user interface. Play with your video speed, add instant color grading with LUT profiles, add your channel logo or episode graphic, tap into new titles, and more! VideoStudio's MultiCam Capture Lite helps you engage your viewers and grow your audience.
Explore more ways to use the built-in screen recording tools in VideoStudio
Creating a gaming video and need to screen record gameplay?
Download VideoStudio's FREE 30 day trial today!