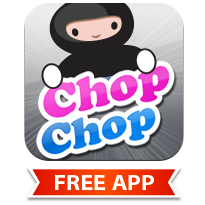 ChopChop
Cut and mash YouTube™ videos to share on Facebook®
HTML5 browser required
ChopChop is a fun, fast and free Facebook app
ChopChop lets you and your friends instantly cut and mash videos together from YouTube, then add titles, links and friend tags. With its built-in YouTube™ search tool and handy drag-and-drop feature, it's easy to chop together your favorite video clips and create fun video mashups!
You and Lady Gaga. Your BFF and Justin Bieber. It's time to mash together your favorite people, moments and videos from YouTube and turn them into something that will make your friends laugh out loud.
It's video sharing for everyone! Why comment on videos when you can edit them together! Here are just a few of the ways you can start chopping—and of course, it's free!
Key Features
Integrated YouTube search tool – quickly grab the videos you want from YouTube
Chop tool – chop up your chosen videos and cut straight to the good parts
The Chopping Block – mash your videos together
Titles, captions and music – overlay funny names, titles and captions
Tagging – label your Facebook friends—or leave comments on friends' videos
Instant sharing – post your video mashup straight to Facebook and tell your friends to check it out!
Frequently Asked Questions
What is ChopChop?
ChopChop is a Facebook app that lets you and your friends edit as a team to cut and mash videos together from YouTube. Then, add titles, links and friend tags, and you're ready to roll!
While most online videos only allow comments or responses, ChopChop lets your friends instantly add their own videos and comments—making a real-time social experience that's more like a quick-paced conversation rather than the usual Facebook commentary. The most common result of using ChopChop is hilarity.
Where do I access ChopChop?
You can access ChopChop by visiting chopchop.corel.com or searching for the ChopChop app within Facebook. Once you install the app, you'll be able to watch, post and participate in ChopChop videos.
How does it work?
HTML5, baby! We translated the quick-cutting and titling tools from Corel's popular VideoStudio® Pro X5 into HTML5 and hooked it all into YouTube and Facebook to make ChopChop possible.
Although we're using some of VideoStudio's technology, this isn't a video editor—we never modify YouTube videos in any way. Instead, ChopChop lets you find and share the segments you want.
Where can I share it?
All the sharing takes place on Facebook, 'cause that's where your friends are.
Can I share Facebook videos?
Not right now.
Do I need a Facebook account?
You can play with ChopChop at chopchop.corel.com without a Facebook account, but if you want to save or share your creations, you'll need to log in to Facebook.
Why can I only use YouTube videos?
Because it was easier for us to do this with YouTube and Facebook rather than having to come to your house and upload those MiniDVD tapes you've been sitting on.
What do you think people will use this for?
Our biggest laughs have come from mashing up vacation footage with inappropriately labeled music videos, but that's just us. ChopChop makes truly social, multi-perspective video and commenting possible, so you can use it for just about anything.
The cool thing about ChopChop is that you're able to call out videos and let other people add their own insights—sometimes it's going to be funny, and other times you're going to generate impact or important dialog you couldn't get in any other way. We encourage all of these uses.
How do I find the YouTube video I want to use?
Use the search box in the top right-hand corner of the ChopChop interface to search for the videos you want. You can use YouTube videos the same way you would on YouTube. Keep in mind, you won't be able to find private or unlisted video, or use video restricted to viewing on Youtube.com.
How do I include my own videos in a ChopChop mashup?
Create a YouTube account and upload your video to YouTube—remember to make it public and name or tag it so you can find it.
Sometimes I'm unable to drag in the YouTube video I want. How come?
It's most likely because the owner has set the video to be viewable only on YouTube (such as disallowing embeds). If the YouTube video is capable of being viewed outside YouTube and you're still having issues, make sure you're using the correct browser: Internet Explorer 9®, Chrome™ 10 or Firefox® 5. These are HTML5 friendly browsers and will allow ChopChop to work as expected.
Who can see my ChopChop videos?
Your Facebook friends—check your privacy settings to set who can see your posts.
What browsers are supported?
ChopChop supports Internet Explorer 9, Chrome 10 and Firefox 5.
How does HTML5 fit into this?
ChopChop is written entirely in HTML5. If you haven't heard about HTML5, and you're curious, there's a comprehensive article over on Wikipedia.
HTML5 is the key to an emerging, fully interactive web and it can do some amazing things with video —and it can all happen in your browser, without the need for plugins, such as Flash™.
Corel's strong collection of video-editing software gives us a lot of tools that people can use to make great-looking videos, and HTML5 is a new and very powerful medium that lets us take and interact with video directly within your browser, whether that's on your PC, your smartphone or your tablet.
I want to edit in more ways than ChopChop allows—some real Citizen Kane stuff. What do you suggest?
ChopChop isn't a video editor. ChopChop is a new way of experiencing videos with friends. If you're interested in editing videos or making your own movies on your PC, check out the Corel VideoStudio Pro X5 free 30-day trial!
Where can I log bugs or make feature requests?
Submit your bugs or suggestions to Corel via the mail link within the app—it's at the top of your screen.